Shrimp and Sausage Jambalaya For One
An Authentic Taste of Creole Delight
Let's take a culinary journey to the vibrant streets of New Orleans, where the enticing aromas of Creole cuisine fill the air. Our destination today is the world-famous jambalaya, a one-pot wonder that perfectly captures the essence of this culturally rich region.
This classic dish incorporates a delightful blend of flavors and textures, including succulent shrimp, zesty sausage, and a colorful medley of vegetables. With each bite, you'll experience a harmonious symphony of spices and a satisfying balance of savory ingredients.
Jambalaya is a dish that embodies the spirit of togetherness and celebration. Traditionally served during Mardi Gras and other festive occasions, it has become a symbol of unity in New Orleans. Today, we're going to show you how to make a single serving of this delicious jambalaya, allowing you to enjoy the flavors of Creole cuisine in the comfort of your own home.
Shrimp and Sausage Jambalaya Recipe
Ingredients:
1/2 cup white rice
1/2 cup chicken broth
3 ounces Andouille sausage, sliced
6 small shrimp, peeled and deveined
1/4 cup diced onion
1/4 cup diced bell pepper
1/4 cup diced celery
1 clove garlic, minced
2 tablespoons tomato paste
1/2 teaspoon Cajun seasoning
1/4 teaspoon dried thyme
1/4 teaspoon dried oregano
1/4 teaspoon paprika
1/8 teaspoon cayenne pepper (optional for extra heat)
Salt and pepper to taste
2 tablespoons vegetable oil
Fresh parsley for garnish, chopped
Instructions:
1. In a small bowl, combine the Cajun seasoning, dried thyme, dried oregano, paprika, cayenne pepper (if desired), salt, and pepper. Set aside.
2. Heat the vegetable oil in a medium-sized saucepan over medium heat. Add the diced onion, bell pepper, celery, and minced garlic. Sauté for 3-4 minutes, until the vegetables become tender.
3. Stir in the tomato paste and cook for an additional 2 minutes, allowing the flavors to meld together.
4. Add the sliced Andouille sausage to the saucepan and cook until it begins to brown, releasing its smoky flavors.
5. Push the sausage to one side of the pan and add the shrimp to the other side. Cook for 1-2 minutes per side until the shrimp turn pink and are slightly firm to the touch. Be careful not to overcook the shrimp, as they can become tough.
6. Sprinkle the Cajun seasoning mixture evenly over the sausage, shrimp, and vegetables. Stir well to ensure that all the ingredients are coated with the flavorful spices.
7. Pour in the chicken broth and bring the mixture to a boil. Reduce the heat to low and simmer for 10 minutes, allowing the flavors to meld together.
8. While the jambalaya simmers, cook the white rice according to the package instructions. Fluff the cooked rice with a fork and set aside.
9. Once the jambalaya has finished simmering, remove it from the heat and let it rest for a few minutes.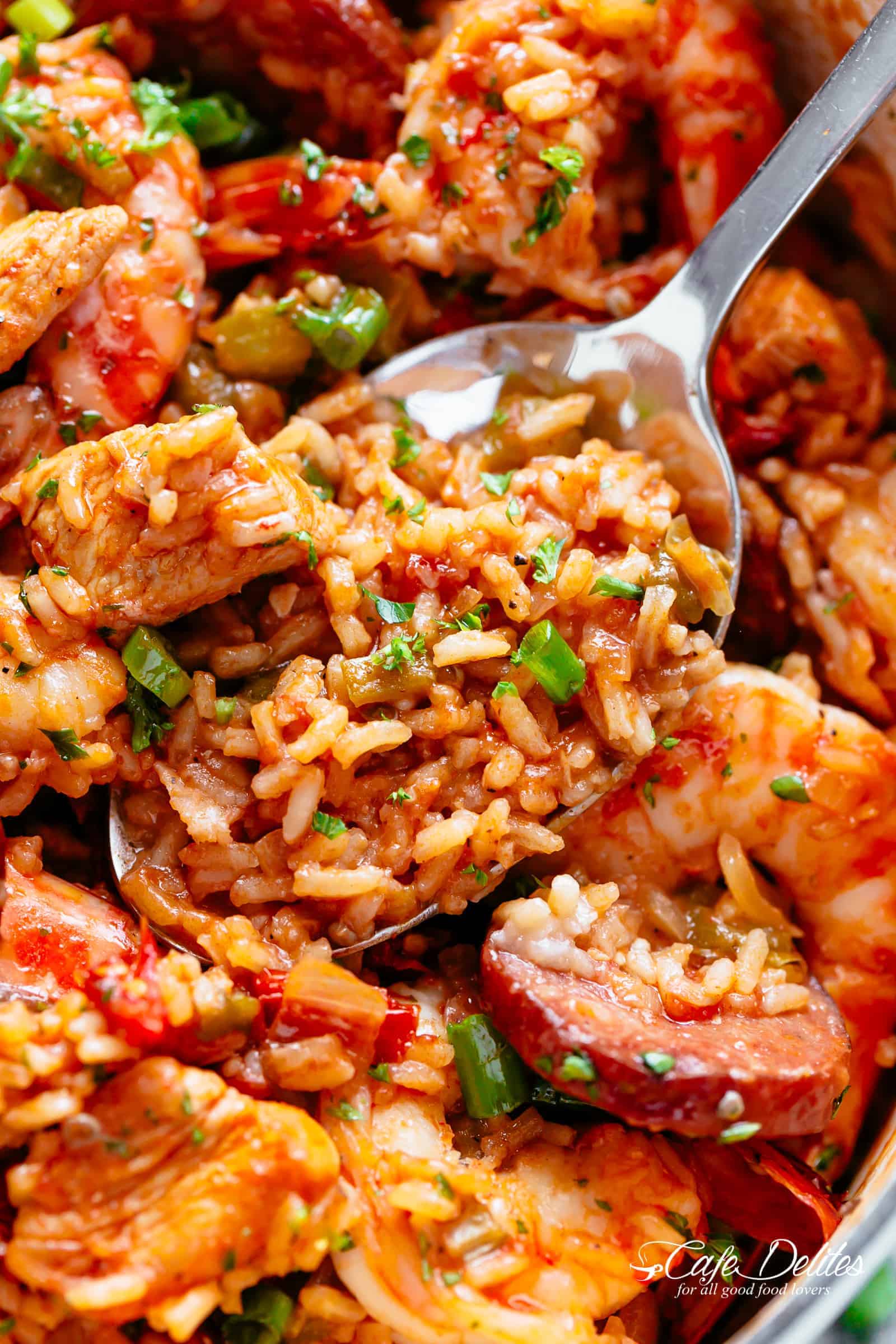 10. To serve, spoon the jambalaya over a bed of fluffy white rice. Garnish with freshly chopped parsley.
11. Sit back, relax, and savor each mouthful of this delectable shrimp and sausage jambalaya. Let the flavors transport you to the vibrant streets of New Orleans.
Tips and Ideas
1. If you prefer a spicier jambalaya, feel free to increase the amount of cayenne pepper or add a few dashes of hot sauce to the mixture.
2. You can customize your jambalaya by adding additional vegetables such as okra, diced tomatoes, or even corn kernels. Be creative and experiment with different flavors!
3. Leftovers can be stored in an airtight container in the refrigerator for up to three days. Simply reheat in a pan or microwave for a quick and satisfying meal.
How to Enjoy Jambalaya
Jambalaya is a versatile dish that can be enjoyed on its own or paired with a variety of sides:
1. Cornbread: The combination of jambalaya and cornbread is a match made in culinary heaven. The sweet and savory flavors complement each other perfectly.
2. Salad: Balance out the richness of the jambalaya with a light and refreshing salad. A simple mix of greens, tomatoes, and cucumbers with a tangy vinaigrette dressing works wonders.
3. Garlic Bread: Indulge in a slice of warm, crusty garlic bread for an extra burst of flavor. The garlic-infused butter pairs beautifully with the spicy notes of the jambalaya.
4. Steamed Vegetables: Add a healthy touch to your meal by steaming some fresh vegetables, such as broccoli, carrots, and zucchini. The vibrant colors and crisp texture provide a delightful contrast to the hearty jambalaya.
Conclusion
Whether you're cooking for one or entertaining a group of friends, this shrimp and sausage jambalaya recipe is sure to impress. The authentic flavors of New Orleans will transport you to the vibrant streets of the Big Easy, even if just for a moment. So don your apron, gather your ingredients, and embark on a culinary adventure filled with spice, warmth, and the joyful spirit of Creole cuisine.
Remember, jambalaya is more than just a dish—it's a reflection of the rich cultural heritage and diverse flavors that make New Orleans a culinary paradise. Take pleasure in every bite and savor the experience of indulging in this authentic Creole delight.
If you are searching about Shrimp and Sausage Jambalaya For One | Recipe in 2020 | Jambalaya you've came to the right web. We have 7 Pics about Shrimp and Sausage Jambalaya For One | Recipe in 2020 | Jambalaya like An authentic Creole Jambalaya recipe! A delicious one-pot meal coming, Shrimp and Sausage Jambalaya For One | Recipe in 2020 | Jambalaya and also Shrimp and Sausage Jambalaya For One | Recipe in 2020 (With images. Here it is:
Shrimp And Sausage Jambalaya For One | Recipe In 2020 | Jambalaya
www.pinterest.com
jambalaya onedishkitchen
Shrimp And Sausage Jambalaya For One | Recipe In 2020 (With Images
www.pinterest.com
jambalaya onedishkitchen
Easy Jambalaya Going To Try It With Cauliflower Rice Creole Recipes
www.pinterest.fr
jambalaya recipe easy sausage louisiana rice shrimp jumbalaya recipes board classic dish choose dee domestic
Easy Shrimp Jambalaya | Recipe | Dinner Side Dishes, Jambalaya
www.pinterest.com
jambalaya shrimp easy choose board recipe
Traditional Jambalaya Recipe | Dandk Organizer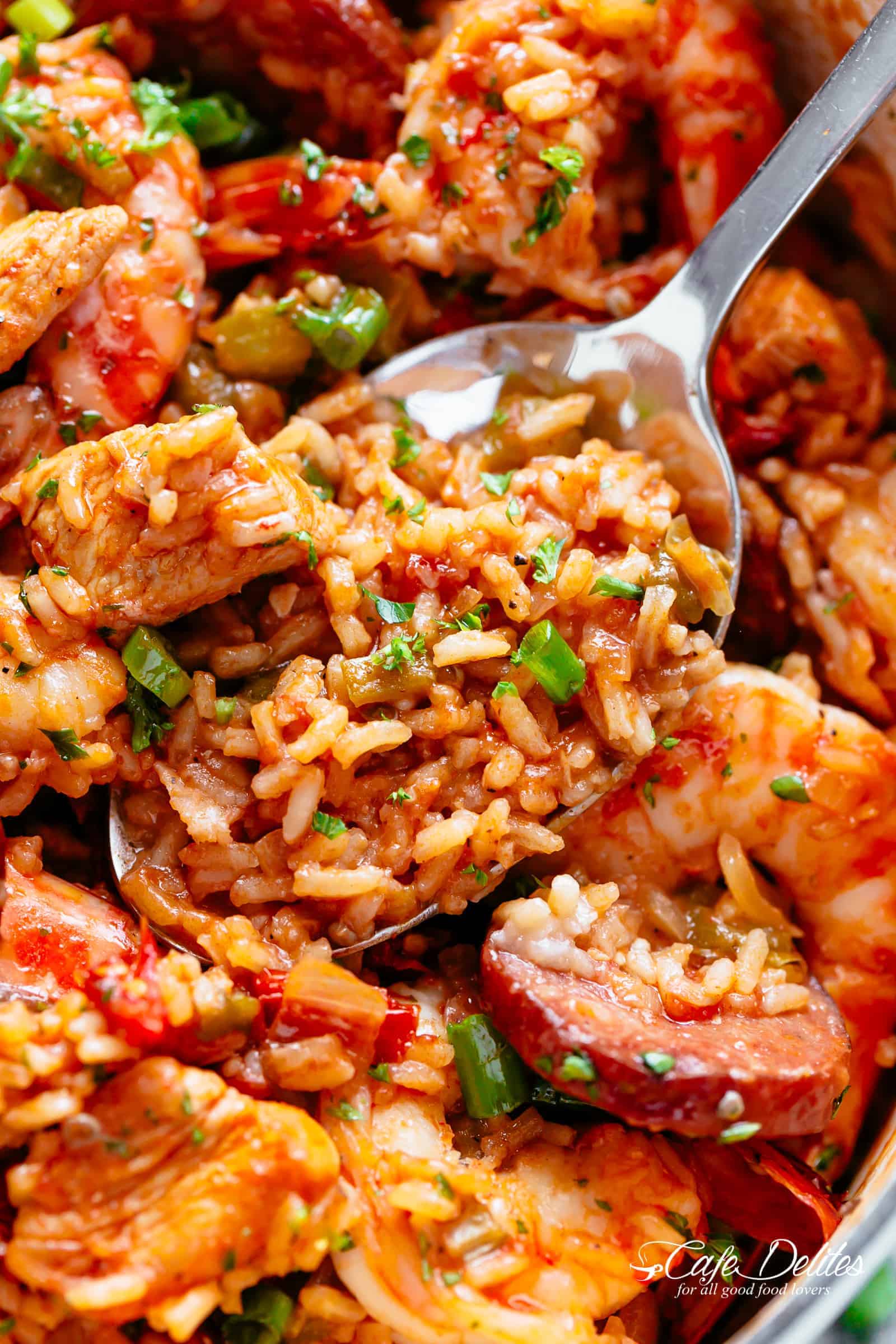 dandkmotorsports.com
jambalaya recipe recipes cafedelites traditional rice creole authentic louisiana pot seafood haitian shrimp sausage delites cafe food chicken jumbalaya
Pin On Easy Dinners
www.pinterest.com
jambalaya domesticdee
An Authentic Creole Jambalaya Recipe! A Delicious One-pot Meal Coming
www.pinterest.com
jambalaya recipe louisiana cajun authentic creole orleans shrimp seafood chicken traditional food recipes sausage cafedelites cookin meal pot delicious coming
Jambalaya recipe easy sausage louisiana rice shrimp jumbalaya recipes board classic dish choose dee domestic. Easy jambalaya going to try it with cauliflower rice creole recipes. Jambalaya shrimp easy choose board recipe