Today, I want to share with you one of my all-time favorite recipes – Homemade New England Clam Chowder! This classic dish is a comfort food delight that will warm your heart and soul. With its creamy base, tender clams, and perfectly seasoned flavors, it's no wonder why clam chowder is loved by so many.
The Best Homemade New England Clam Chowder
There are many variations of clam chowder out there, but in my opinion, nothing beats the classic New England style. It's rich, flavorful, and incredibly satisfying. Plus, it's surprisingly easy to make at home!
To start making this delicious chowder, you'll need:
6 slices of bacon, diced
1 large onion, diced
4 celery stalks, diced
4 medium-sized potatoes, peeled and cubed
4 cups clam juice
2 cups heavy cream
2 cups milk
2 tablespoons all-purpose flour
2 cans (10 ounces each) chopped clams, undrained
Salt and pepper to taste
To get started, cook the bacon in a large pot until crispy. Remove the bacon from the pot, leaving the drippings behind. In the same pot, sauté the onion and celery until they become tender and aromatic.
Next, add the cubed potatoes and clam juice to the pot. Bring everything to a simmer and cook until the potatoes are tender. In a separate bowl, whisk together the heavy cream, milk, and flour until smooth. Gradually pour this mixture into the pot, stirring constantly.
Now it's time to add the star ingredient – the clams! Remember to include the liquid from the cans as well. Allow the chowder to simmer for another 10 minutes or until heated through. Season with salt and pepper to taste.
Serve the clam chowder hot, garnished with the crispy bacon you cooked earlier. The smoky and salty flavors of the bacon complement the creamy chowder perfectly, adding an extra layer of deliciousness to every spoonful. I like to enjoy mine with some crusty bread for dipping!
Tips for Perfect Clam Chowder
Here are some tips to ensure your homemade clam chowder turns out absolutely perfect:
Use quality ingredients: Fresh clams and high-quality clam juice make a huge difference in the flavor of the chowder. Opt for top-notch ingredients to achieve the best results.
Don't overcook the clams: If you're using fresh clams, be careful not to overcook them. They should be just cooked through and tender. Overcooking can result in rubbery and chewy clams.
Add some extra seafood: Feel free to amp up the seafood flavor by adding some shrimp, scallops, or even crab meat to the chowder. It's a great way to customize the recipe to your liking.
Make it ahead: Clam chowder tastes even better on the second day! The flavors have time to meld together, creating a more intense and robust taste. Prep this dish ahead of time for a stress-free meal.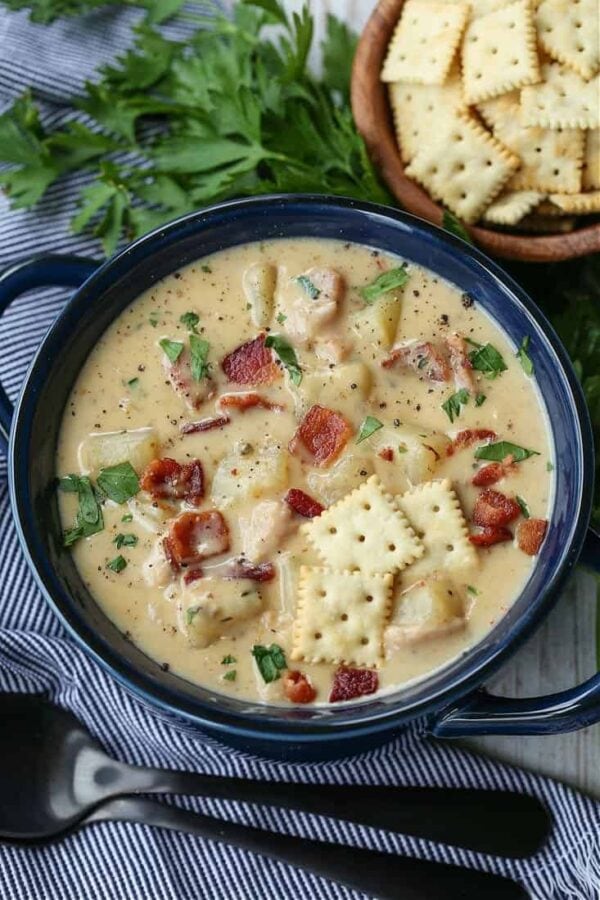 Clam Chowder: A New England Tradition
Clam chowder has a long history in New England and is deeply rooted in the region's culinary traditions. Its origins can be traced back to the early settlers who incorporated the abundant coastal seafood into their daily meals.
Throughout the years, New England clam chowder has become an iconic dish that represents the heartiness and simplicity of the region's cuisine. It has earned its place as a beloved staple in seafood restaurants and homes all across the United States.
One of the things that make New England clam chowder so special is its creamy and comforting base. The combination of cream, potatoes, and clams creates a satisfying and velvety texture that warms you from the inside out. It's like a cozy hug in a bowl!
How to Enjoy Clam Chowder
Clam chowder is incredibly versatile and can be enjoyed in various ways. Here are some ideas to elevate your clam chowder experience:
Pair it with crusty bread: There's nothing better than dipping a warm piece of crusty bread into a steaming bowl of clam chowder. The combination of textures and flavors is absolutely irresistible.
Serve it with oyster crackers: Oyster crackers are a classic accompaniment to clam chowder. The slightly salty and crunchy crackers add a delightful contrast to the creamy soup.
Serve it in a bread bowl: For a fun twist, hollow out a sourdough bread bowl and ladle the clam chowder right into it. Not only does it make for a stunning presentation, but you can also enjoy the bread as you eat your way through the chowder.
Top it with bacon: As mentioned earlier, crispy bacon is the perfect garnish for clam chowder. It adds a smoky depth of flavor and a satisfying crunch to every bite.
Experiment with toppings: Get creative and add your favorite toppings to the chowder. Chopped scallions, fresh parsley, or even a sprinkle of Old Bay seasoning can take the flavors to the next level.
I hope you're inspired to try making this incredible Homemade New England Clam Chowder in your own kitchen. It's a dish that brings warmth and comfort, perfect for cozy nights or gatherings with friends and family. Give it a try, and I'm sure it will become a favorite in your home too!
If you are searching about New England Clam Chowder Recipe | Wine & Glue you've came to the right web. We have 7 Pictures about New England Clam Chowder Recipe | Wine & Glue like Want To Make Your Own Authentic New England Clam Chowder At Home, New England Clam Chowder – Bellomo & Associates, LLC and also New England Clam Chowder | Coley Cooks…. Here you go:
New England Clam Chowder Recipe | Wine & Glue
www.wineandglue.com
clam chowder england recipe recipes soup wineandglue hear other choose board
Clam Chowder | New England Chowder Recipe | Mantitlement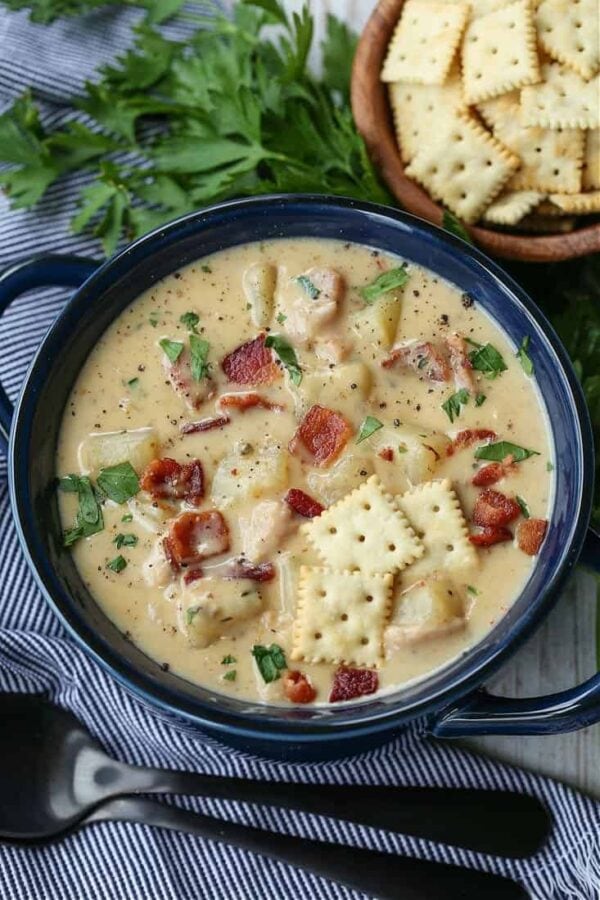 www.mantitlement.com
chowder clam mantitlement
New England Clam Chowder – Bellomo & Associates, LLC
blog.bellomoassociates.com
chowder clam recipe england classic englander eat recipes yankee winning award heath robbins
Clam Chowder Recipe (VIDEO) – NatashasKitchen.com
natashaskitchen.com
chowder clam recipe soup fish homemade england creamy clams natashaskitchen recipes easy bacon potatoes seafood light but so satisfying silky
New England Clam Chowder | Coley Cooks…
coleycooks.com
chowder clam england recipe coleycooks classic jump ne
Want To Make Your Own Authentic New England Clam Chowder At Home
www.pinterest.com
recipe chowder clam england soup potato boston recipes emeril thespruceeats homemade classic authentic bacon red
Best Homemade New England Clam Chowder Recipe | Lemon Blossoms
www.lemonblossoms.com
chowder clam recipe england homemade authentic pro tips creamy
Clam chowder recipe (video). Clam chowder england recipe recipes soup wineandglue hear other choose board. Chowder clam england recipe coleycooks classic jump ne