Are you ready to indulge in the rich and savory flavors of a classic Chicago-style deep dish pizza? Well, you're in luck because today I'm going to share with you a mouthwatering recipe that will transport your taste buds straight to the Windy City! Get ready to experience the cheesy goodness, flaky crust, and delectable toppings that make this iconic pizza a favorite among pizza lovers everywhere.
Chicago-Style Deep Dish Pizza
Before we dive into the recipe, let's take a moment to appreciate the sheer beauty of this pizza. Just imagine a thick, buttery crust that cradles a delightful blend of gooey cheese, tangy tomato sauce, and an array of toppings that will make your heart skip a beat. Each bite is a heavenly combination of cheesy, saucy, and crusty goodness. It's no wonder why Chicago-style deep dish pizza has earned a special place in the hearts (and stomachs) of pizza enthusiasts around the world.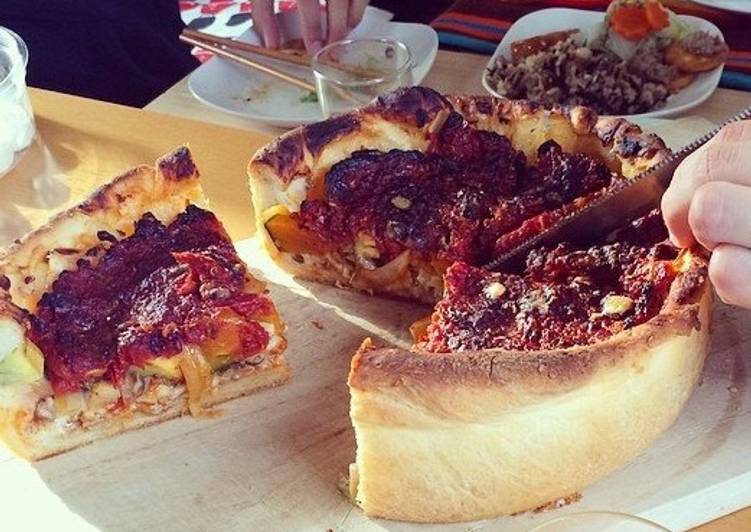 Ingredients:
2 ½ cups all-purpose flour
½ cup yellow cornmeal
1 teaspoon sugar
1 ¼ teaspoons salt
½ cup (1 stick) unsalted butter, chilled and cubed
¼ cup vegetable shortening, chilled
½ cup ice water
1 pound Italian sausage, casings removed
1 cup sliced mushrooms
1 cup diced green bell pepper
1 cup diced onion
3 cloves garlic, minced
1 can (28 ounces) crushed tomatoes
2 teaspoons dried oregano
1 teaspoon dried basil
1 teaspoon dried thyme
½ teaspoon red pepper flakes (optional)
4 cups shredded mozzarella cheese
½ cup grated Parmesan cheese
1 cup sliced pepperoni
Fresh basil leaves for garnish
Instructions:
1. In a food processor, combine the flour, cornmeal, sugar, and salt. Add the chilled butter and shortening, then pulse until the mixture resembles coarse crumbs.
2. Gradually add the ice water and pulse until the dough comes together. Form the dough into a ball, wrap it in plastic wrap, and refrigerate for at least 30 minutes.
3. Preheat your oven to 425°F (220°C).
4. In a large skillet, cook the Italian sausage over medium heat until browned and crumbled. Remove the sausage from the skillet and set it aside.
5. In the same skillet, sauté the mushrooms, green bell pepper, onion, and garlic until softened. Add the crushed tomatoes, oregano, basil, thyme, and red pepper flakes (if using). Simmer for about 10 minutes until the sauce has thickened.
6. Roll out the chilled dough on a floured surface to fit a deep-dish pizza pan or a cast-iron skillet. Press the dough into the pan, making sure it covers the bottom and the sides.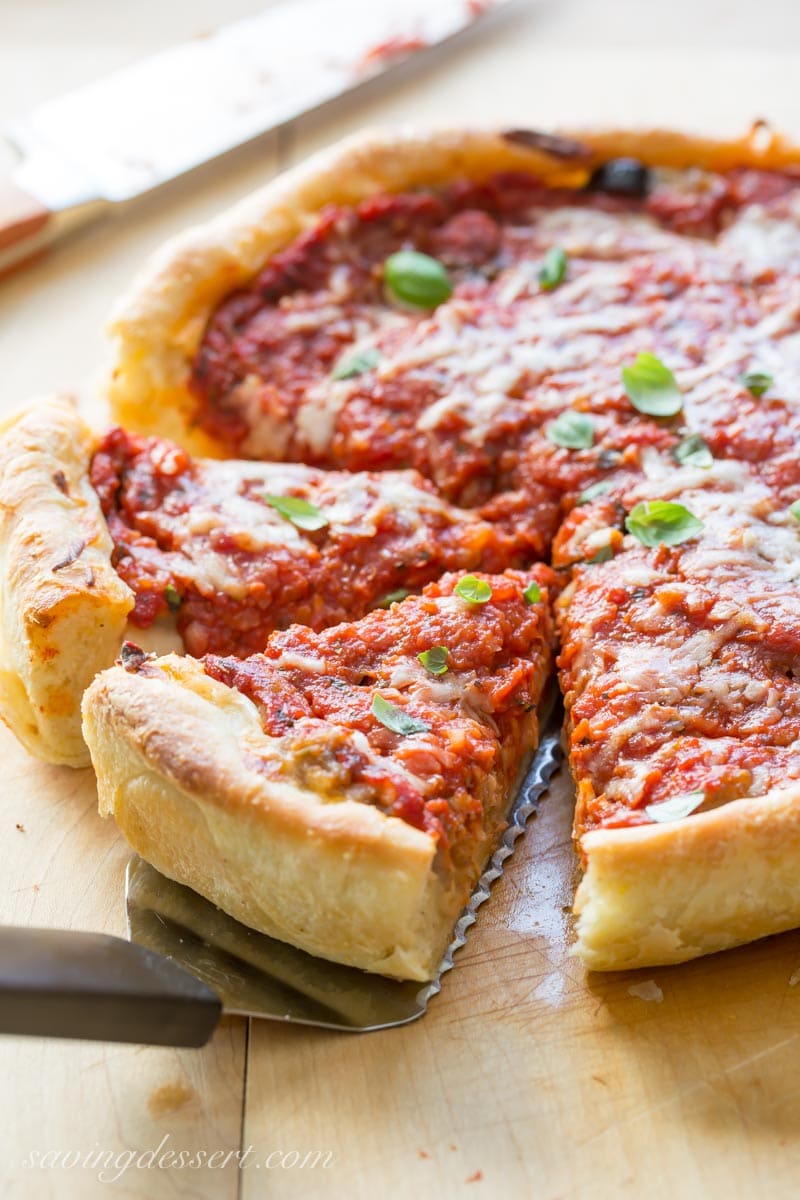 7. Layer half of the shredded mozzarella cheese over the dough. Next, add the cooked Italian sausage on top of the cheese, followed by the sautéed vegetables and the remaining mozzarella cheese.
8. Pour the tomato sauce over the cheese and toppings, ensuring that it spreads evenly.
9. Sprinkle the grated Parmesan cheese over the sauce and arrange the sliced pepperoni on top.
10. Bake the pizza in the preheated oven for 30-35 minutes, or until the crust is golden brown and the cheese is bubbling and melted to perfection.
11. Once the pizza is cooked, remove it from the oven and let it cool for a few minutes before slicing. This will help the flavors meld together and make it easier to handle.
12. Garnish the pizza with fresh basil leaves and serve it hot to enjoy its incredible flavors.
Now that you have the recipe for this delectable Chicago-style deep dish pizza, it's time to explore some tips, ideas, and variations to customize it to your liking:
Tips and Ideas:
1. If you want to save time, you can use store-bought pizza dough instead of making it from scratch. Just make sure to choose a deep-dish pizza dough that can handle the hearty toppings.
2. Feel free to experiment with different toppings to create your own signature pizza. Some popular choices include black olives, green olives, fresh tomatoes, spinach, or even sun-dried tomatoes.
3. Don't be afraid to add more cheese to your pizza if you're a cheese lover! You can mix in other types of cheeses like cheddar, provolone, or fontina to enhance the flavor profile.
4. Serve your Chicago-style deep dish pizza with a side of marinara sauce or ranch dressing for dipping. It adds an extra layer of deliciousness and makes each bite even more satisfying.
5. If you prefer a spicier kick, sprinkle some crushed red pepper flakes on top of the pizza before baking it. It will give your taste buds a fiery sensation.
How to Enjoy Your Deep Dish Pizza:
1. Gather your family and friends around the dining table and share the joy of this flavorful pizza together. The generous portions make it perfect for a gathering or celebration.
2. Serve your Chicago-style deep dish pizza with a crisp green salad on the side. The refreshing contrast of the salad complements the rich flavors of the pizza.
3. Pair your pizza with a glass of full-bodied red wine, such as a Cabernet Sauvignon or a Chianti. The robust flavors of the wine will enhance the taste experience and elevate your meal.
4. Don't forget to save room for dessert! Indulge in a sweet treat like a classic tiramisu or a rich chocolate lava cake to complete your satisfying meal.
Now that you're armed with this incredible recipe, tips, and ideas, it's time to unleash your creativity in the kitchen and treat yourself to a slice of Chicago-style deep dish pizza perfection. Whether you're enjoying it on a cozy movie night at home or surprising guests at a party, this pizza will never disappoint. So roll up your sleeves, preheat that oven, and get ready to embrace the magic of this iconic pizza. Your taste buds will thank you!
Disclaimer: The information and images used in this post are for illustrative purposes only. The recipe and content have been created in a general context and do not aim to appropriate any specific culture or ethnicity.
References:
[1] "How to Make Any-night-of-the-week Chicago-style Deep Dish Pizza", Retrieved from:
source
[2] "Chicago-Style Deep-Dish Pizza-3 – Saving Room for Dessert", Retrieved from:
source
[3] "Pin on Recipes", Retrieved from:
source
[4] "Chicago-Style Deep Dish Pizza with Italian Sausage Recipe", Retrieved from:
source
[5] "Chicago Style Deep Dish Pizza – Tara's Multicultural Table", Retrieved from:
source
If you are looking for Chicago Style Deep Dish Pizza – Tara's Multicultural Table you've came to the right page. We have 7 Pics about Chicago Style Deep Dish Pizza – Tara's Multicultural Table like How to Make Any-night-of-the-week Chicago-style Deep Dish Pizza, Chicago Style Deep Dish Pizza – Tara's Multicultural Table and also Chicago Style Deep Dish Pizza – Tara's Multicultural Table. Read more:
Chicago Style Deep Dish Pizza – Tara's Multicultural Table
tarasmulticulturaltable.com
deep chicago tarasmulticulturaltable
The Best Deep Dish Pizza In Chicago | Chicago Style Deep Dish Pizza
www.pinterest.com
timeout
How To Make Any-night-of-the-week Chicago-style Deep Dish Pizza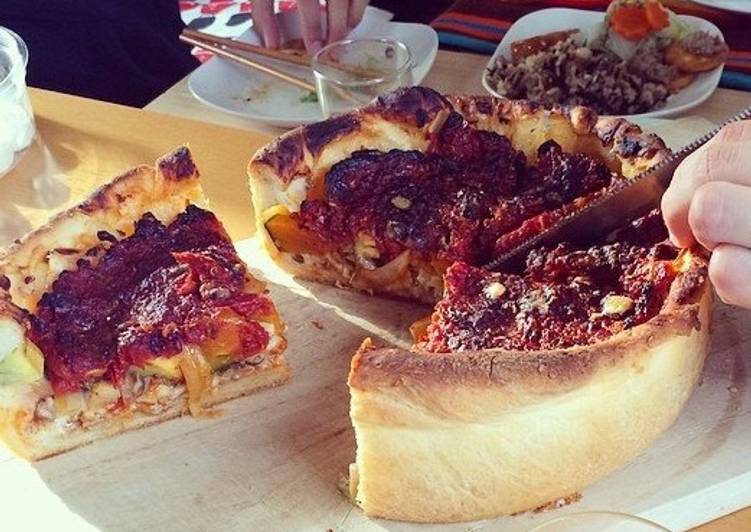 warteg01.blogspot.com
How To Make Chicago-Style Deep Dish Pizza. – Sallys Baking Addiction
sallysbakingaddiction.com
pizza deep dish chicago style recipe crust authentic cheese step sallysbakingaddiction recipes warning sauce
Chicago-Style Deep Dish Pizza With Italian Sausage Recipe
www.simplyrecipes.com
Pin On Recipes
www.pinterest.com
sallysbakingaddiction
Chicago-Style Deep-Dish Pizza-3 – Saving Room For Dessert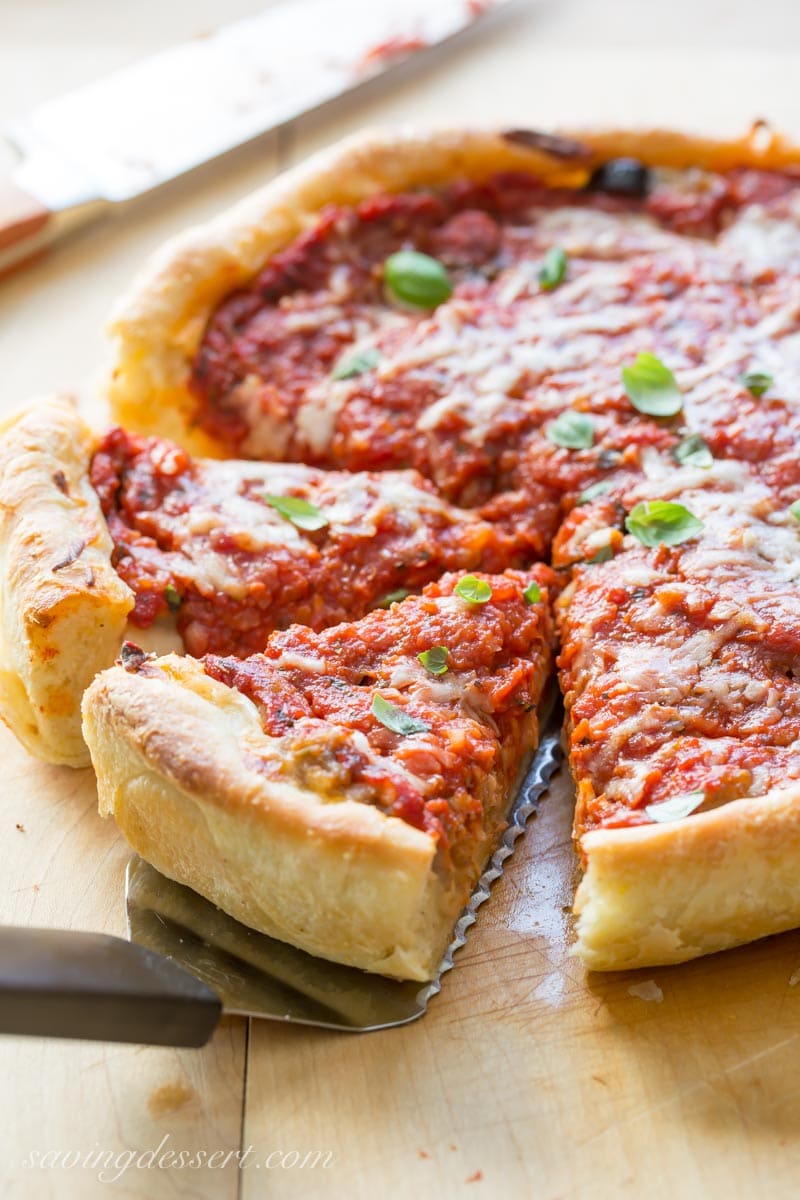 www.savingdessert.com
recipegirl louisiane ingredients buttery flaky icu recipesdire 000webhostapp
How to make chicago-style deep dish pizza.. Chicago-style deep-dish pizza-3. Chicago style deep dish pizza