Today, I'm excited to share with you a fabulous recipe that will surely tantalize your taste buds – Philly Cheesesteak! This mouthwatering dish is a classic game day fare that is loved by many. So, let's dive right in and learn how to make this delicious and iconic Philly Cheesesteak.
Philly Cheesesteak Recipe
To start off, you will need the following ingredients:
1 pound ribeye steak, thinly sliced
2 tablespoons vegetable oil
1 onion, thinly sliced
1 green bell pepper, thinly sliced
4 rolls, preferably hoagie rolls
8 slices provolone cheese
Salt and pepper to taste
Now that we have all the ingredients ready, let's move on to the preparation.
Preparation:
1. Heat the vegetable oil in a large skillet over medium heat.
2. Add the thinly sliced onion and green bell pepper to the skillet and sauté until they are soft and slightly caramelized.
3. Push the onion and bell pepper to one side of the skillet and add the thinly sliced ribeye steak to the other side.
4. Cook the steak for about 2-3 minutes on each side until it is browned and cooked to your desired level of doneness.
5. Once the steak is cooked, mix it with the sautéed onion and bell pepper in the skillet to combine the flavors.
Assembly:
Now comes the fun part – assembling the Philly Cheesesteak sandwiches!
1. Preheat your oven to 350°F (175°C).
2. Split the rolls in half lengthwise and place them on a baking sheet.
3. Divide the steak, onion, and bell pepper mixture evenly among the rolls.
4. Top each roll with two slices of provolone cheese.
5. Place the baking sheet in the preheated oven and bake for about 5 minutes, or until the cheese has melted and the rolls are slightly crispy.
6. Remove from the oven and let the sandwiches cool for a few minutes.
Serving:
Philly Cheesesteak is best enjoyed fresh and hot!
1. Cut the sandwiches in halves or quarters, if desired.
2. Serve with your favorite condiments, such as ketchup, mayonnaise, or hot sauce.
3. This sandwich pairs well with crispy French fries or a refreshing side salad.
4. Don't forget to savor every bite and enjoy the flavors!
Tips and Ideas:
– If you prefer a spicier version of the Philly Cheesesteak, you can add some sliced jalapenos or sprinkle some crushed red pepper flakes on top before baking.
– For a vegetarian twist, you can substitute the ribeye steak with grilled Portobello mushrooms or seitan.
– Experiment with different types of cheese. While provolone is the traditional choice, you can also use American cheese, Swiss cheese, or even pepper jack for an extra kick.
– Feel free to get creative with the toppings! Add some sautéed mushrooms, pickles, or even avocado slices for a unique twist.
– If you're a cheese lover, you can add an extra slice of cheese on top of the provolone before baking for an ooey-gooey delight.
How to Make the Traditional Philly Cheesesteak Sauce:
To complete the authentic Philly Cheesesteak experience, you can whip up a delicious sauce to drizzle over your sandwich.
Ingredients for the sauce:
1/4 cup mayonnaise
2 tablespoons ketchup
1 tablespoon Worcestershire sauce
1 teaspoon hot sauce
1/2 teaspoon garlic powder
1/2 teaspoon onion powder
Salt and pepper to taste
Instructions:
1. In a small bowl, whisk together the mayonnaise, ketchup, Worcestershire sauce, hot sauce, garlic powder, and onion powder.
2. Season with salt and pepper to taste.
3. Drizzle the sauce over your Philly Cheesesteak sandwich or serve it on the side for dipping.
Philly Cheesesteak: Tips, Ideas, and More
– To achieve maximum tenderness and flavor, it's best to use thinly sliced ribeye steak. You can ask your butcher to thinly slice it for you, or freeze it for about an hour and then slice it yourself with a sharp knife.
– Don't forget to season the steak with salt and pepper before cooking. This simple step enhances the flavors and adds a delicious depth to the dish.
– If you can't find hoagie rolls, you can use other types of bread or rolls, such as baguettes or sub rolls. However, the softness and chewiness of the hoagie rolls complement the cheesesteak filling perfectly.
– For an extra crispy roll, you can lightly toast the cut sides of the rolls on a buttered skillet before assembling the sandwiches.
– If you're hosting a party or a game day gathering, you can make a big batch of Philly Cheesesteak sliders by using smaller rolls and dividing the filling accordingly. They are sure to be a hit among your guests!
Authentic Philly Cheesesteak Recipes from Geno's and Pat's
If you're in search of the most authentic Philly Cheesesteak experience, you can't miss out on the legendary Geno's and Pat's.
These two iconic cheesesteak spots in Philadelphia have been serving up their mouthwatering creations for decades, attracting locals and tourists alike.
While we can't exactly replicate their secret recipes here, we can take inspiration from their techniques and flavors to create our own delicious masterpiece.
Remember, the key is thinly sliced ribeye steak, sautéed onions and bell peppers, an ooey-gooey cheese, and a perfectly toasted roll.
So, don't be afraid to get creative in your kitchen and put your own twist on this classic sandwich!
Enjoy your homemade Philly Cheesesteak and savor every delicious bite. Whether you're cheering for your favorite team or simply craving a hearty and flavorful meal, this iconic dish is sure to hit the spot.
If you are looking for Traditional Philly Cheesesteak Sauce – merextensitat you've visit to the right page. We have 7 Pictures about Traditional Philly Cheesesteak Sauce – merextensitat like Philly Cheesesteak – FOSEG RECIPES, Authentic Philly Cheesesteak – thestayathomechef.com | Cheesesteak and also Traditional Philly Cheesesteak Sauce – merextensitat. Here you go:
Traditional Philly Cheesesteak Sauce – Merextensitat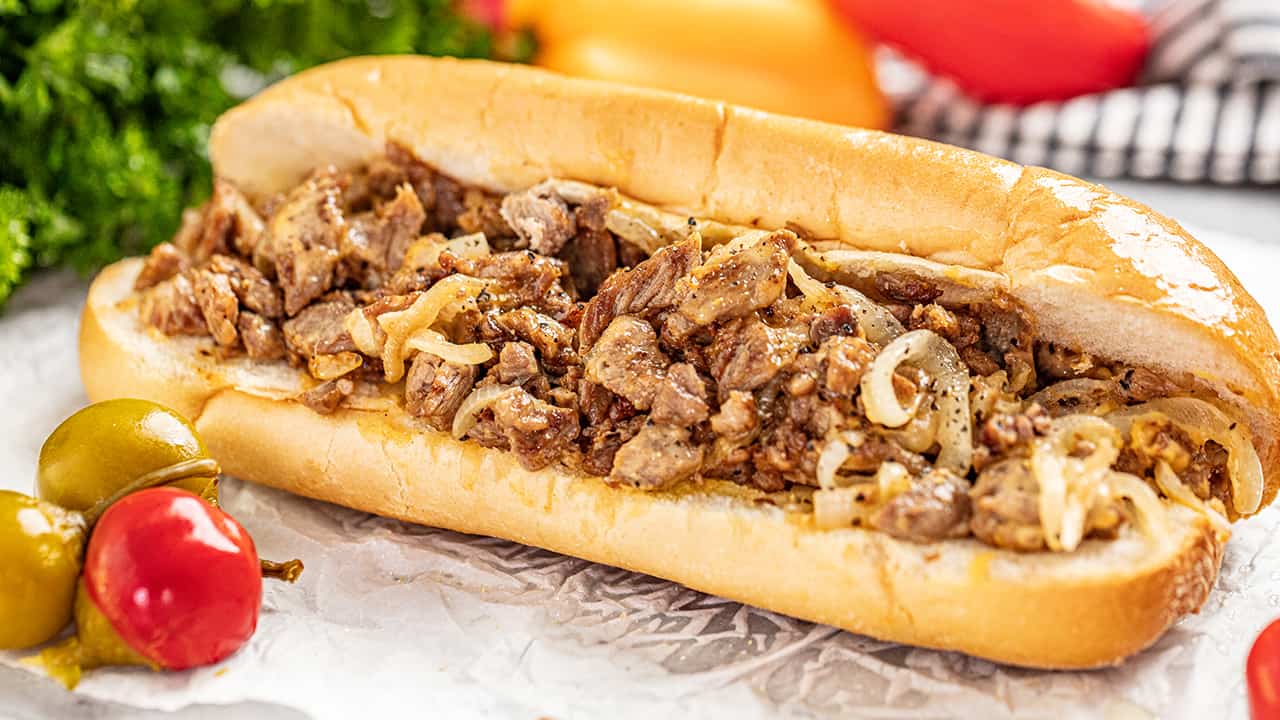 merextensitat.blogspot.com
Philly Cheesesteak – FOSEG RECIPES
foseg.com
Authentic Philly Cheesesteak Recipe
unpeeledjournal.com
philly cheesesteak order steak craving unpeeledjournal
Authentic Philly Cheesesteak Recipes From Geno's And Pat's. (Hey, Make
coolmomeats.com
philly cheesesteak recipes pats genos geno hey
Authentic Philly Cheesesteak – Thestayathomechef.com | Cheesesteak
www.pinterest.com
philly cheesesteak sandwich sandwiches hoagie thestayathomechef centara
Philly Cheesesteak Recipe
www.simplyrecipes.com
cheesesteak philly evans
This Easy Philly Cheesesteak Recipe Is The Ultimate Game Day Fare
www.pinterest.com
philly cheesesteak onions steak tender loaded cheesesteaks fromvalerieskitchen bloglovin
Philly cheesesteak – foseg recipes. Philly cheesesteak order steak craving unpeeledjournal. Cheesesteak philly evans